We appreciate
your sacrifice
Fox Nation would like to give all active first responders their FIRST YEAR FREE.
Start Now
What is Fox Nation?
An entertainment streaming service brought to you by FOX News that Celebrates America every day.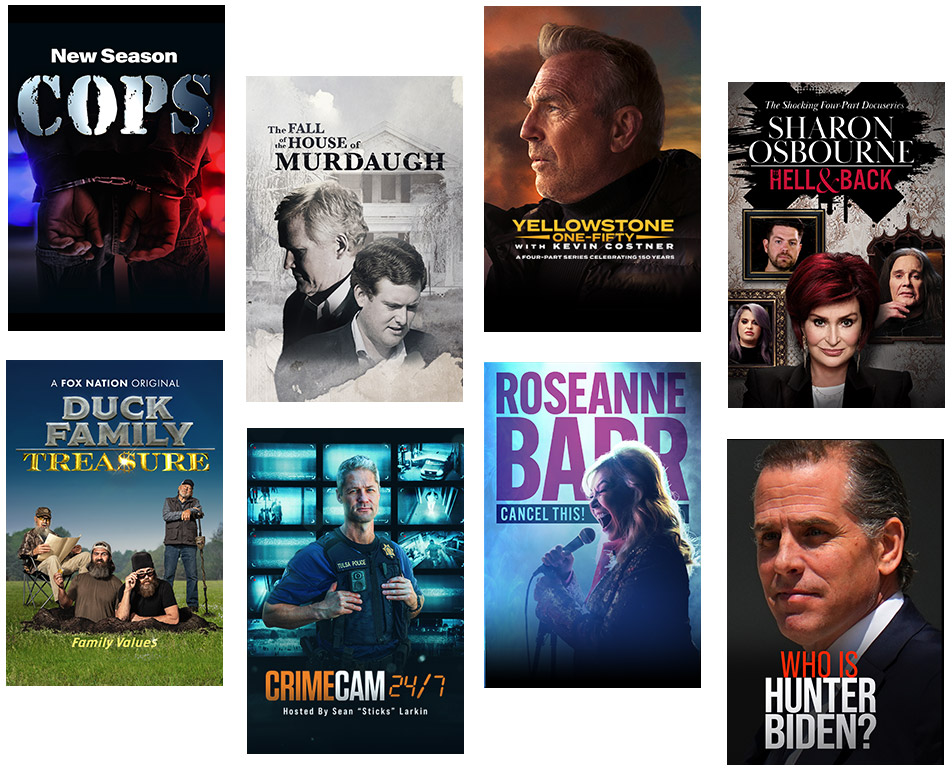 Getting Started is Easy
Verify Your First Responder Status

Click Start Now and fill out the verification form.

Proceed to Checkout

Create your Fox Nation account and checkout with your First Responder offer. Existing subscribers click here for help with completing the process.

Enjoy Fox Nation

Watch thousands of hours of original shows that Celebrate America.
Start Now
FAQ
If you need additional help, please contact customer care at help.fox.com.
Who is eligible for this offer?
Active Firefighters: Career & Volunteer
Active Paramedics: (EMT's)
Active Law Enforcement: Local / State / Federal (Reserve) Police departments, Federal Bureau of Prisons (DOJ/BOP) / Department of Corrections, Department of Homeland Security (DHS), Federal Air Marshal Service, Immigration & Customs Enforcement (DHS/ICE), Transportation Security Administration (DHS/TSA), Federal Bureau of Investigation (FBI) Drug Enforcement Administration (DEA), Bureau of Alcohol Tobacco, Firearms & Explosives, United States Marshal Service, US Customs & Border Protection (DHS/CBP), US Forest Service.
I am already a Fox Nation subscriber, but also an active First Responder. How can I redeem my offer?
If you are an existing subscriber, you can keep your current account and redeem this offer in a few easy steps.
You will not need to start a new account.
Please make sure you are signed out of your Fox Nation account.
Click Start Now above and continue through the verification process.
Once you are verified, log in to your Fox Nation account, go to My Account and select the First Responder plan from the Change Plans section.
From there you will be directed to the payment page to complete the process.
Please see the video below for step by step instruction on redeeming the offer in your current Fox Nation account.
If not instantly verified, SheerID will compare the information provided in the uploaded document(s) against the information entered in the verification form. To ensure a speedy and successful verification, please pay attention to how you enter your information on the form so that it will match what is seen on the document(s). For example, enter your first and last name on the form as it appears on your first responder document(s). If your last name has changed since your document was issued, please upload a government-issued document along with a document that shows your current last name.
What kind of document(s) do I upload if asked?
Acceptable documents must show an affiliation with an eligible organization thru employment (paystubs are accepted) or licensure status for paramedics.

A hint about choosing your status: Please select the status that is most accurately represented by your documentation.
How do I know you won't sell or share my ID and information?
This is something we take extremely seriously. We only use someone's information to confirm their eligibility. We do not rent their information. We do not sell their information. We do not store documents or images uploaded to our system.
Click here to read our full privacy policy
.
I have questions about my verification status that aren't covered here. Can you help me?
Yes, you can contact us through our
Information Form
. Someone from the SheerID Customer Service Team will respond as soon as they're able.
Why do I need to provide a payment method if the offer is free?
Don't worry, your payment method will not be charged at this time. We require a payment method to be provided to have on file for annual renewal payments. As continued gratitude for your service, you'll receive a 50% off discount on your annual renewals. We'll send you a 30-day notice prior to the annual renewal to remind you that your payment method will be charged. If you choose not to renew, you can easily cancel your subscription 24-hours prior to the renewal date from the My Account page on Foxnation.com and you will not be charged.
If I am eligible for both the First Responder and Military offer, may I redeem 2-free years of Fox Nation?
No, both offers may not be combined. Subscribers eligible for both offers may only redeem one offer.